Goodwood House Wedding Fireworks Musical Fireworks by Sirotechnics
There are very few venues in the UK that evoke such a feeling of prestige and exclusivity as the fabulous Goodwood House near Chichester. Being one of the largest estates in England means it is absolutely perfect for a firework display in any one of the ground's locations. As a wedding venue, Goodwood House allows a limited number of firework displays a year with prior permission from Lord March and his Family who still live in the wonderful house. With a large horse stables on site as well as much livestock, Sirotechnics plan everything with the Goodwood Health and Safety team and Wedding Planners to ensure your display is provided without a hitch.
In early May we had a lovely couple by the name of Rachel and Kieran who booked us just under a year before to create a fireworks display to music – known as a "Pyromusical Fireworks Display" in professional circles. They chose to have a high intensity 6 Minute display choreographed to their favourite tracks. These were, Michael Jackson – Smooth Criminal, One Direction – Fireproof and to close the show with Adele – Hometown Glory. Take a few minutes out, turn up the volume and fullscreen the video below:
If you are thinking of having Wedding Fireworks at Goodwood House then if would certainly be worth getting in touch with us to discuss what you would like to see on your big day. Sirotechnics are Goodwood House Fireworks Recommended Suppliers, so if our videos are not enough, you have the stamp of approval from the wedding team at Goodwood too! We can even put you in touch with the videographer who specialises in firework videos that produced the above video, for a little extra we will even take breathtaking stills of your Wedding Fireworks at Goodwood House. See the scale of the display below illuminating acres of the surround grounds, house and guests to perfection.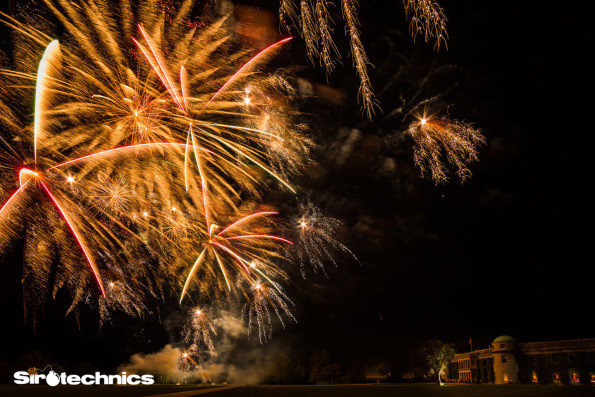 Of course, your Goodwood House Fireworks do not have to be for a wedding, or even pyromusical, they can be for any event held at the venue. Corporate Fireworks at Goodwood House for your annual staff party perhaps. We have created intimate displays for families having a special dinner with friends. Party Fireworks really are the ultimate luxury.
Would you like to talk with Sirotechnics about your Fireworks at Goodwood House? If so, please fill in the form below and we will get back to you within 24 hours, or call the office on 0121 769 2064 if you want an even faster response!