Engagement Fireworks by Sirotechnics Fireworks
What better way to ask your partner for their hand in marriage than using fireworks?! If this is what you are looking for then you have found the right place for engagement fireworks.
Sirotechnics provide fireworks for engagement parties and marriage proposals for some of the UK's top Proposal Planners too. However you want to say it, we can help. For starters here is a couple we have done recently: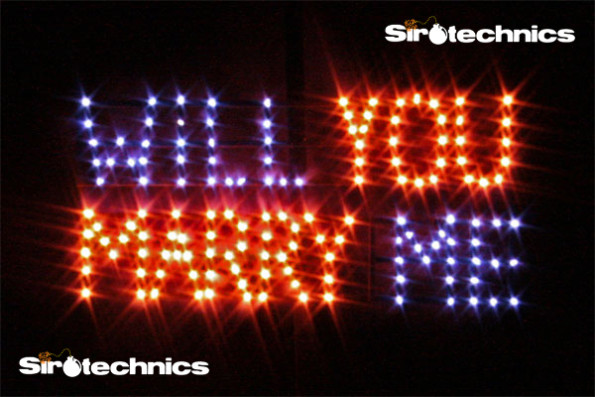 We can create your message in any colour to spell it out in fireworks. If you want to propose with fireworks we can include the name and even heart shapes too, see the video below for initials and a heart:
What about a beautiful accompanying aerial fireworks displays when your partner says yes? We can provide an accompanying fireworks display to the occasion too. You don't have to have hearts, or a lancework proposal fireworks, but here is a big heart shape in the sky so you can see it is indeed possible!
If you think its all a little too much with personalised fireworks, don't fret, Sirotechnics provide professional firework displays UK wide meaning we can put together a spectacular engagement fireworks display just for you. Every display we create is unique and tailored to our clients wishes. We offer a totally bespoke service to every customer at no extra cost. To discuss your proposal fireworks with us simply drop us a line below!
Please note – this is a UK only service, we cannot supply to the USA.
Firework Displays for any Occasion – by Sirotechnics Fireworks.