Classical Music Fireworks – Proms in the Park
Pyromuscials with Classical music – the Perfect Accompaniment
Classical Music Fireworks are the perfect mix of punctuation, drama and light. Some of the magic comes from knowing the right music to choose. Add a second skill of product knowledge with design, and you really do have a feast for your eyes.
Sirotechnics Fireworks were approached by a client with a simple brief for the display (video below). We had a napkin with 3 tracks on it (overall 1 hour of classical music), and a budget. Our commission was to make a 10 minute classical music firework display. It sounds simple?!
Selecting the most appropriate music sections, and merging the tracks into one seamless concert, accompanied by split second precision fireworks dancing to the beat, took a little over 7 full days to create and design. With 6 people on the ground for a full day (in the driving rain for ten solid hours!), this is what we achieved:
Classical Fireworks were one of the very first uses of music and fireworks together, when the proms in the parks started all those years ago. Still, each year, we see the beautiful harmony taking place between bands on the ground and fireworks over their heads in the balmy summer evenings across the UK. Sirotechnics are able to provide this Pyromuscial service at most locations, if you want us to quote for your summer concert fireworks, please do get in touch. What better way can you think of to end the proms in the park with your picnic?!
Classical Music Fireworks are not just limited to outdoors either. Here is a photo taken from when we produced the pyrotechnic finale to the 1812 Overture in Birmingham Symphony Hall: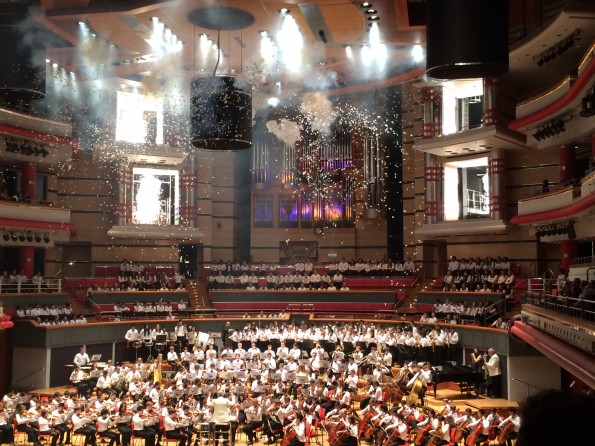 For this finale, we provided silver fountain jets, airburst's and confetti air bursts to shower the stage and front row on the last beat! Using the latest wireless digital firework technology, we can position effects to wow your audience almost anywhere!
If you are looking to secure a Classical Music Fireworks display, then please get in touch, you may be surprised how affordable we are!