Lancework on Water | The Lakeness Monster!
Sirotechnics Fireworks are a specialist in the art of Lancework. In 2012 Sirotechnics were approached to create a floating lancework for use in the British Musical Fireworks Championships held in Southport at the marine lake. Sadly, this was to be the last year that the marine lake was to be used so they wanted to do something a little bit special.
Our brief was simple – "We would like a Loch Ness monster to travel across the lake at a relatively slow speed that breathes fire."
So nothing too complicated then?! This is what Sirotechnics came up with:
We achieved the brief to acclaim, the display was awarded a special mention due to the innovation. So how was it achieved?
Sirotechnics utilised a marine docking system to create pontoons to float the individual lanceworks on. Then we used a 150 metre high tension wire and a canoe to pull it tight over the lake. Finally lots of caribinas and a long rope meant we could move the floating lancework up and down the tension wire.
The Lancework was fired using a remote firing system called Cobra. The module was armed half an hour prior to the show to ensure continuity. This was achieved by yours truly paddling out in a canoe on a pitch black lake, something i can whole heartedly not recommend. There was 3 modules on board the pontoons to control the firing of not only Nessie but also the various effects on board the first pontoon. When the little flies rise from the water you will notice the monster breathing fire to burn them! Here is a couple of stills from the set piece in action too: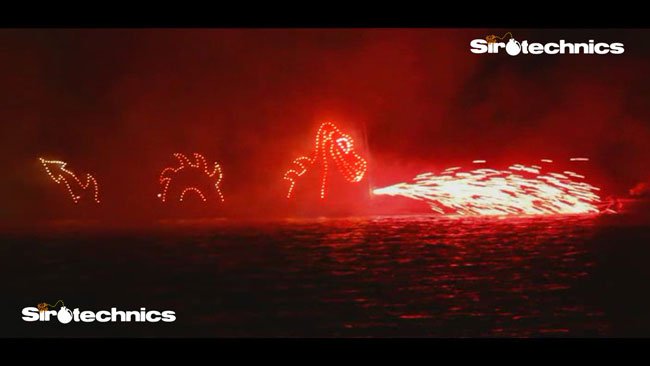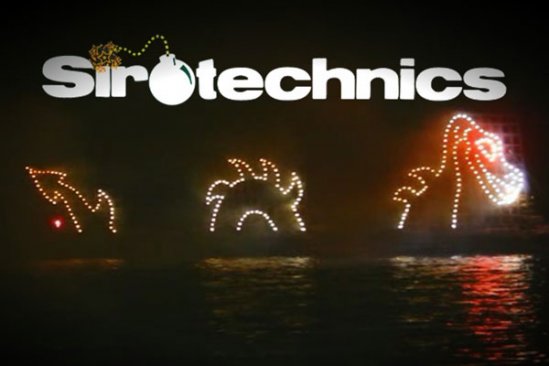 Sirotechnics Fireworks provide Lancework set pieces for any idea you can think of. Our limitation is your imagination so visit our gallery for more examples of our work or get in touch for a quote.