Wedding Fireworks Solihull
Are you getting married in Solihull? Have you thought about having wedding fireworks? The first huge shell exploding as the knife enters the cake? Or simply a multitude of bright silver fountains lining the walkway as you exit the church to your awaiting vehicle? Wedding Fireworks in Solihull by Sirotechnics, the perfect end to your perfect day. Preferred suppliers to Henley Golf Course, Wooton Park and Nuthurst Grange.
Based in the heart of the West Midlands, Sirotechnics are very proud to have produced Firework Displays for a whole host of clients in the past. We operate all over the UK and abroad, but especially in Solihull, our home town. It is always a feature of any wedding that is sure to be remembered and has the opportunity to allow breathtaking photos of the Bride and Groom taken also – see our Photo Gallery for examples.
With Sirotechnics, each wedding firework display is individually designed, whether you choose one of our popular packages or choose any budget in between. Click on any of the packages below to send us an enquiry!
Solihull Wedding Fireworks





Have you considered a Pyromusical to your first dance? One of our favourite displays was when we fired behind an outdoor floodlit dance floor whilst the Bride and Groom took to the floor for the first dance. People did not know where to look – the fireworks or the dancing?! The effect was mesmerising and a memory that will always stick with us.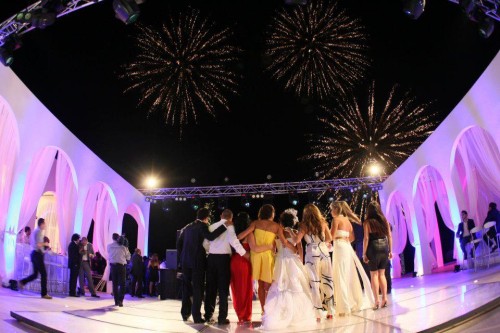 Whatever display you think you may like, we look forward to discussing it with you. We will design the bespoke display to all of your requirements and specialise in the art of Lancework (Fire-Writing) allowing us to create initials, hearts, champagne bottles with bubbles flowing from the top, almost anything you desire. We also stock Red Heart Shells all year round, allowing us to create huge Red Hearts in the sky to accompany your dazzling Wedding Fireworks Display.