Nick and Mel's Wedding Fireworks!
Sirotechnics have had a fantastic weekend at Nick and Mel's wedding and we would like to share with you the wedding fireworks display which made the evening even more spectacular!
This was a high impact short duration display with lots of hard hitting effects throughout. We used large calibre cakes along with shells up to 100mm in diameter. There were even 3 lovely heart shape shells near the end – see if you can spot them.
The show was started by the bride and groom, erupting into a volley of large shells and silver cakes. Variation of effects throughout ensures all eyes are glued to the sky for the magical display. A lovely still from Kristian Parton Photography is below: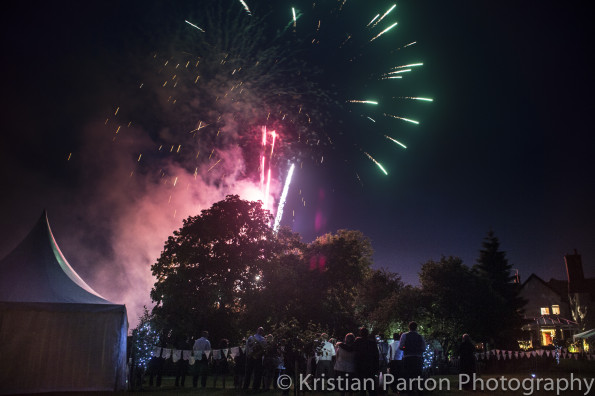 What else made the evening fantastic? Well Sirotechnics were pleased to meet Richard Kemp from Kemp and Kemp Catering. The food was truly exquisite and they specialise in bespoke food for independent weddings. Richard and his team put on a true feast, so if you are looking for fantastic food for your wedding, look no further than below.
Richard and his team also have another website for independent weddings. Here you can find other suppliers for your bespoke wedding. Why have it the same as everyone else? These include marquee companies, refrigeration units, photographers, flower arrangers, and now Wedding Fireworks Providers!